TFI Web Design
Protect Your Website Pages With HTTPS and An SSL Certificate.
Updated: Feb 10


HTTPS is a security protocol that helps your site stay safe and secure, and this protection is approved by an SSL certificate.
Protect Your Website With HTTPS And SSL [TFI WEB DESIGN]
It has become more evident that several small to medium-sized business owners and website owners do not understand that their web pages need to be secure. Especially, when receiving payments as e-commerce sites do or when collecting sensitive data online, you should protect your site with HTTPS and SSL.
Years ago, search engines like Google and Bing made it a prerequisite for online success by insisting that websites MUST have Hypertext Transfer Protocol Secure (HTTPS) because it secures communication over a computer network.
Not only does Google want your website to be secure, browsers currently expect your site to be secure when they land on your pages, or else they might hit the back button and surf elsewhere, which you do not want to happen.
Website security is not only for sites that collect sensitive information or e-commerce platforms. It is one of the best practices for performance in search engines.
When a browser lands on your website and sees the phrase "not secured" displayed just before your domain name, there is no doubt that the user will be suspicious. And, it does not bode well in the eyes of people looking to do business with you online.
SSL is a best practice standard for all websites and for those that do not process sensitive data.
What is a "Secure" Website?
A secured website means the communication protocol is encrypted using the most updated and secure protocol: TLS 1.2. Transport Layer Security) or Secure Sockets Layer (SSL). SSL is a standard security protocol that establishes an encrypted connection between a web server and a browser.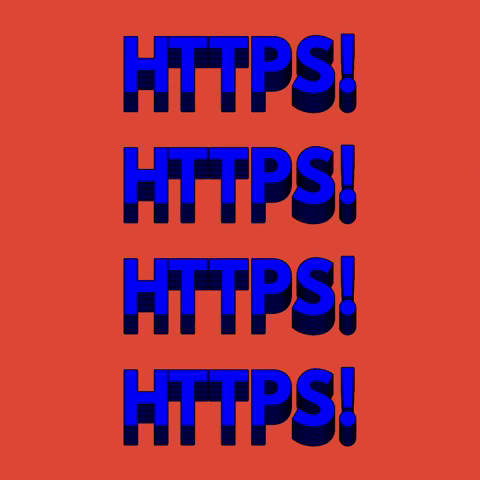 When a website exercises SSL, the URL (Uniform Resource Locator) - the address of a given unique resource on the Web - begins with "HTTPS" rather than the unsecure "HTTP". And, you should know the S omitted from the HTTP means "Secure".
Therefore, it is essential that you incorporate this on your site or when launching a new website. If your site uses SSL, it means the information that is shared between the browser and the website is encrypted, authenticated, and therefore secured. With TLS 1.2, your site will have extra layers of protection.
If the website is unsecure, doesn't use TLS or SSL, the information shared on the site can be accessed or manipulated by a malicious online attacker or a hacker. They can easily have access to the browser's information because it has NOT been kept away from unauthorised people or applications.
There are numerous reasons as to why Google made this a vital practice for all online ventures, especially those that transact online, sites that collect sensitive information like NI numbers or social security numbers, credit card numbers, login details, and the list goes on.
When did Google Insist on Having a Secure Website?
"In 2014 the use of HTTPS became a ranking signal."
Google decided they wanted the internet to be safer and rolled out the new concept back in 2014, insisting that all websites must be HTTPS. They also added that; 'sites that use the SSL certificate will rank better than those that do not use the Secured Socket Layer.'
Despite Google indicating that the use of HTTPS would be a ranking signal, they noticed a lot of websites didn't exercise this practice, and in 2016 they put their foot on the pedal when they upgraded their Chrome browser which left no room for doubt, hereby showing sites that do not use HTTPS and labelling them as "Not Secure" as you can see in the photo below.
Information shared on UNSECURE websites can be accessed or manipulated by an attacker or unauthorised applications. [TFI WEB DESIGN]
Users Can Now Tell The Difference Between Unsecured & Secured Websites.
Since browsers now show sites that are secure and not secure, the majority of site and business owners had to follow the trend [by using TLS / SSL]. When browsing sites via Firefox, Internet Explorer, Chrome, and on mobile browsers, such as Chrome on Android, and Safari on iOS, you'll notice a padlock symbol or icon telling you when the site you have visited is secured (HTTPS).
Implement HTTPS to keep your information and website safe and away from prying eyes. [TFI WEB DESIGN]
"When using HTTP sites, any data transferred can potentially be accessed or manipulated by attackers. However, when using HTTPS sites, data is encrypted and authenticated and therefore secured."
Benefits of Using HTTPS
The user's information is encrypted, and therefore more secure.

Browsers today prefer placing orders and sharing personal information on a site that is secured.

Google Chrome prominently displays caution when a user visits a site that does not use HTTPS.

Google has clearly stated that they rank HTTPS sites more than those that are HTTP, meaning HTTPS improves SEO (Search Engine Optimisation).
Move Your Pages to HTTPS
You must make sure your site's pages are secured (HTTPS), and not unsecure (HTTP). In some cases, having SSL installed does not guarantee your pages will automatically use HTTPS. You can attempt entering the standard HTTP version of your site to see if they are being redirected to the HTTPS of the same page to make sure all is fine.
Protect Users, and Your Business
As stated above, when implementing the HTTPS protocol, you are not just following Google's guide, it shows you consider the safety of your browsers. This means their data submitted through your website is protected and kept away from prying eyes. As the number of websites on the planet grows [over 1.75 billion], the number of cyberattacks increases.
So ensuring your website(s) is (are) using SSL and HTTPS correctly for optimal security, search performance, and establishing credibility with visitors, as well as maintaining a professional web presence is the way to go.


Follow TFI Web Design across our social channels, on Facebook, Twitter and Instagram.